Heating Core, Heat Tube and Heat V
Better Results For Large Cakes and Pans
Heating Core for Large Cakes
Versatile Heat V for any large pan to improve cooking in the center
New Heat Tube is for Medium Size Pans
All facilitate even baking in large pans
See tabs below for details
This is the secret to fast, efficient, and professional baking results for larger cakes, pizzas, casseroles. Brings additional heat to the center of the pan.
Heating Core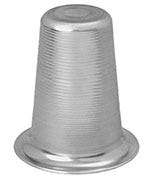 This core will not only substantially reduce your baking times, it also will allow your cakes to rise evenly too!
16 Gauge Aluminum
Consistent, uniform heat conduction
Easy to use
Easy release
Place the core (opening side up) in the pan, fill with batter like the rest of the pan, bake as normal.
When finished baking, pop the cake in the core out, plug the hole and decorate. The cake will naturally bond together and no one will be the wiser!
Heat V

The Heat V was designed for use in 10" or wider cake pans and is available for 2", 3" and 4" deep pans. They can effectively be used in round, contour, square and rectangular-shaped pans.
Improved uniformity of bake
Less crowning means less waste and less work
PSTK stick-resistant finish provides easy removal
Fast, easy to clean
The engineering for the Heat V resulted from the problem that larger size cakes tend to cook at the edges faster than the center, mostly because of being close to the edge of the pan. The Heat V captures the oven heat and transfers that heat through the spikes to the center of the pan improving the uniformity of the bake.
The Heat V is easy to remove after baking and leaves minimal structural damage.
After the batter is in the pan, add Heat Vs like the photo above so that the distance from the edge of the pan to the first spike and from the second spike to the center of the pan is equal.
Bake at your usual temperature. Your baking time may be shorter than usual so monitor the setting of the cake batter.
Allow the cake to cool as normal in the pan and remove the Heat Vs just before turning out.
Email lloydapns.com and let us know how well it works for you!