Used in modern combi and convection ovens to attain grill marks while cooking sandwiches, breads, meats, vegetables.
Heavy .197 inch thick anodized aluminum
Dura-Kote® permanent, easy release coating
Heat Safe to 700º F
Ovens operating up to 900° F: remove pan between bakes
Conveyor Ovens
Depending on the oven type, pre-heating the pan will produce grill marks on foods. Modern impingement ovens may not need pre-heating.
Conventional Ovens
Pre-heating the Grill Pan will ensure a bold, grill pattern on foods.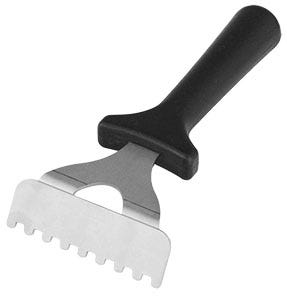 Grill Scraper Accessory
For RCT-16316-DK and RCT-16332-DK ONLY
An effective tool for cleaning LloydPans Grill Plates between orders.
4 inch wide stainless steel scraper blade
Will not scratch or wear off LloydPans Dura-Kote® coating
6 inch thermoplastic handle
Grill Plate Accessory For Modern Ovens
Merrychef e2s High Speed Oven
RCT-16332-DK 11.75 x 11.75 inches
TurboChef SOTA High-Speed Commercial Oven
RCT-16316-DK 8.28 x 11.02 inches