Our Pans and Coatings
LloydPans manufactures an extensive line of pans, equipment and tools for the pizza, baking and foodservice industries. You'll find our Quik-Disks at the largest pizza chains in the world and our cake pans at the most influential bakeries in the United States.
Every pan we make is manufactured in our Spokane Valley, Washington facility. We use our in-house anodizing process that helps us streamline our commitment to the quality of products and the timely delivery of your orders.
After the pans have been anodized, they receive one of three proprietary coatings. How do our coatings stack up? We tested them.
| | | | | |
| --- | --- | --- | --- | --- |
| | LloydPans Coatings | Bare Aluminum | Glazed | PTFE |
| Oiling | Minimal | Required | Minimal | Minimal |
| Baking Cycle | 2000+ | Life of pan | 300 | 1000+ |
| Pollutants | None: 97% water | None | 97% solvent | 97% solvent |
| Contaminants | None | Bitter After Taste | Flaking into food | Flaking into food |
| Metal Utensils | Safe | No | No | No |
| Recycle | Yes | Yes | Yes | Impractical |
| Recoatable | Yes | N/A | Yes | No |
Our three permanent, toxin-free coatings that are infused into the pan surface, create a durable baking platform that will out-last and out-perform any other pan on the market. These coatings are permanent, and because they will not chip, peel, or flake off our pans, they will never become embedded in the foods our customers prepare…and we think that is vitally important for healthy eating.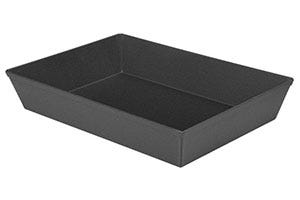 For Pizza – Pre Seasoned Tuff-Kote® (PSTK)
An essential for pizza pans to ensure a stick-resistant coating. This coating has proven successful by the top pizza franchises in the world, and many pizza experts, who have praised the pan for its performance and durability. Benefits include:
No pre-seasoning required. Save time and labor with these ready for production pans.

Permanent stick-resistant coating will not chip, peel or flake off.

Dark pan finish bakes hotter and faster than bare aluminum and produces an excellent crust with consistent, even baking.

Easy to clean and maintain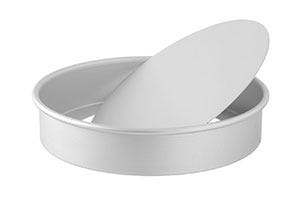 For Pizza and Baking - Silver-Kote®
This coating system is designed to eliminate re-glazing. It bakes similar to bare aluminum but has the added benefit of being a permanent stick-resistant finish. Other benefits include:
Unlike silicone, this coating will last through countless baking cycles with proper care.

Cut costs and improve efficiencies by reducing release aids and parchment paper.

Steam-proof finish allows our customers to depan on their schedule.

Neutral, non-toxic finish does not discolor products containing eggs, such as cheesecake.

Water-based release finish is PTFE and PFOA free.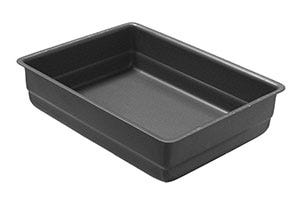 For Baking - Dura-Kote®
Similar to our PSTK pan but fine-tuned for applications in retail and high-volume bakeries. This pan was engineered for multiple oven types, and to withstand the rigors of hundreds of baking cycles per day. Benefits include:
The dark finish bakes hot and helps brown crusts quicker.

Permanent stick-resistant coating will not chip, peel or flake off.

Metal utensil safe pans allow for easy cleaning and maintenance.
Alternative Coatings
LloydPans also offers custom orders with PTFE Non-Stick and Silicone Glaze coatings for industry standard applications that do not require a permanent coating. Powder Coating is offered for applications that require durability and color, and are for display and service, not for baking.