LloydPans Coatings
Only from LloydPans
LloydPans permanent stick-resistant finishes, PSTK, DK and SK, are created by combining our in-house anodizing processes with our exclusive water-based release coatings. The result eliminates the need for re-coating and provides a durable and long lasting product. Choose Pre-Seasoned Tuff-Kote®, Dura-Kote® or Silver-Kote® for superior performance and durability.
LloydPans also offers on custom orders, PTFE Non-Stick and Silicone Glaze coatings for industry standard applications that do not require a permanent coating. Powder Coating is offered for applications that require durability and color, and are for display and service, not for baking.
Pre-Seasoned Tuff-Kote®
Superior Finish for the Pizza Industry
Proven by top franchises and pizza experts
Praised for performance and long lasting durability
No Pre-Seasoning required
Save time and labor. Ready for production.
Permanent stick-resistant coating
Will not chip, peel or flake off. Metal utensil safe.
Dark finish bakes hotter and faster than bare aluminum
Produces excellent crust with consistent, even baking
Easy to clean and maintain
---

Silver-Kote
®
Bakes Similar to Bare Aluminum with Added Benefits
Eliminate Reglazing
Unlike silicone, this durable permanent release coating will last through countless baking cycles with proper care.
Reduce Release Aids and Parchment Paper
The easy release surface requires minimal oiling and often eliminates the need for parchment paper.
Steam-Proof Finish
Steam and moisture penetration will not degrade the finish so depanning can occur on your schedule. Safe to soak in water.
Non-Reactive
Neutral, non-toxic finish does not discolor products containing eggs, like cheesecake.
Water based release finish is PTFE and PFOA free.
No Peeling, Flaking or Chipping
The release layer is infused into the surface of the pan to create a long lasting, durable finish.
Easy to clean and maintain
---
Dura-Kote®
Dark Finish Bakes Hot for Browning Crusts
Permanent stick-resistant coating
Will not chip, peel or flake off.
Durable, built to withstand countless baking cycles
Engineered for combi, convection, conveyor and conventional ovens
Metal utensil safe
Coating will not chip, peel or flake off.
Reduced oiling
The easy release finish is stick resistant
Easy to clean and maintain
---
PTFE Non-Stick
Commonly Used in Foodservice Products
Non-stick surface
Provides good release suitable for baking temperatures.
Semi Permanent
Coating degrades with use and susceptible to scratching and flaking if not used and stored properly..
Non-Metal Utensils
Wooden, plastic or silicone utensils are best for use.
---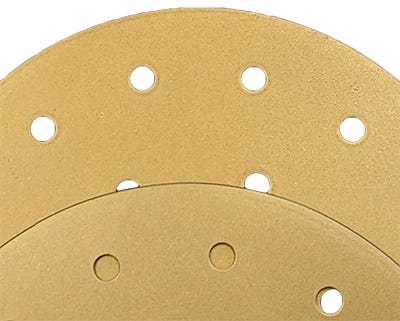 PTFE Non-Stick Color Coating
Available in a variety of colors. Contact Sales for information.
Similar characteristics as PTFE coating above
---

Silicone Glaze
Excellent Release for the Baking Industry

Non-stick surface throughout the life of the coati Several hundred baking cycles before re-glazing is necessary.
Pans can be reglazed multiple times
LloydPans does not offer this service.
Glaze coating is susceptible to steam penetration
Depanning when hot is recommended.
Delicate finish needs gentle care
Not metal utensil safe.
---
Powder Coat
Durable Solvent-Free Color Coating
Durable Surface
The highly durable surface protects from corrosion and is resistant to chipping and flaking.
Solvent-Free
Applied with no solvents and releases minimal Volatile Organic Compounds. The environmentally better choice for colored parts. Not suitable for baking. Safe to 350° F.
Colors
PMS color matching and a select pallet of food safe colors.