Alternate Detroit Style Pizza Pans
Slightly Rounded Corners
A better price point by using a different type of manufacturing.
Same benefits as Detroit Style Pizza Pans with an imperceptible difference in pizza corners. See bake test photo.
No Pre-Seasoning - Our exclusive Pre Seasoned Tuff-Kote® finish adds a release coating, eliminating the need for any pre-seasoning
Easy to clean
Will Never Rust! Heavy duty anodized aluminum with PSTK finish.
Durable - Heavy duty drawn construction
Nesting - Compresses when empty, saving storage space
Proofing - Universal Lids fit both sizes. Stacking makes your prep table more efficient
16 Gauge Aluminum, Hard Coat Anodized, finished with our exclusive PSTK coating.
The corner bake test from the Lloydpans test kitchen shows a minimal difference in shape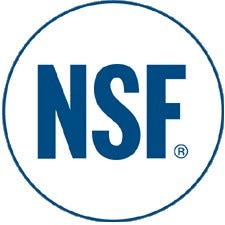 NSF Approved
Alternate Detroit Style Pans only.
Does not include lids.