Detroit Style Pizza Pans
The best in the business say that when it comes to creating Detroit Style Pizza, you need the right pan for the job.
We couldn't agree more. That's why LloydPans designed it.
Check out these bells and whistles:
Sleek body design: Built to motor city specifications
Tough Type 3 hard coat anodize exterior: Metal utensil safe to withstand punishing conditions without chipping, baking, or flaking off –no matter what.
High-performance release coating: Non-toxic and ready to roll – no pre-seasoning required
Delicious interior: Your customers will taste the robust flavors of your mouth-watering pizza –not the pan.
Rugged durability: Long after food, carbon, and rancid oil build-up on blue steel pans make them candidates for replacement, our Detroit Style Pans still look and act like they've just rolled off the lot.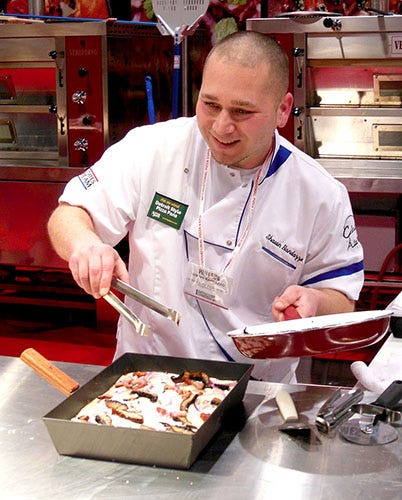 World Champion Pizza Maker, the late Shawn Randazzo, partnered with LloydPans to provide a reliable supply of premium Detroit Style Pizza pans to pizzerias worldwide.
"THE" Detroit Style Pizza Pan is a new and improved pan designed to yield an authentic Detroit Style Pizza bake that rivals the performance of blue steel pans and eliminates common problems associated with baking Authentic Detroit Style Pizza.

"THE Detroit Style Pizza Pan provides the same quality bake that defines Detroit Style Pizza: crispy on the outside, soft and airy on the inside, edge-to-edge cheese that caramelizes around the crust and the style's signature square shape. In addition, the pan introduces significant improvements."
Detroit Style Pizza Pans
Available in 8 x 10 inch and 10 x 14 inch sizes
If you're considering adding Detroit Style Pizza to the menu in your store, or you simply need to replace some pretty ugly pans, contact us at sales@lloydpans.com for details on how you can take one for a "test drive."
Brought to you by LloydPans.
Proud maker of pans created for the pizza industry…not the auto industry…since 1989.