As soon as the LloydPans innovation team walked into the Las Vegas Convention Center, we were immediately taken with the sights, sounds, smells and love of the pizza industry at the 2023 International Pizza Expo & Conference. Our home base in Booth No. 2351 was hopping, but our products could also be seen in a number of exciting, innovative ways on the show floor.
At competitions
Competitors using LloydPans' pizza pans received third place and fourth place in this year's Pan Division, thanks to Hudson & Packard's Charlie Webb and World Pizza Champion Nicole Bean, respectively.
It was Webb's second year in a row placing in the top 3, and he said he wouldn't have been able to make his "Taste of Home" pizza for the competition without LloydPans.


"Ever since we've started we've always used LloydPans. I love that they don't stick and it's an even bake," Webb said. "Some of the other pans that are out there aren't as thick as LloydPans, so they can break, and we've been rocking the same 250 LloydPans since the beginning."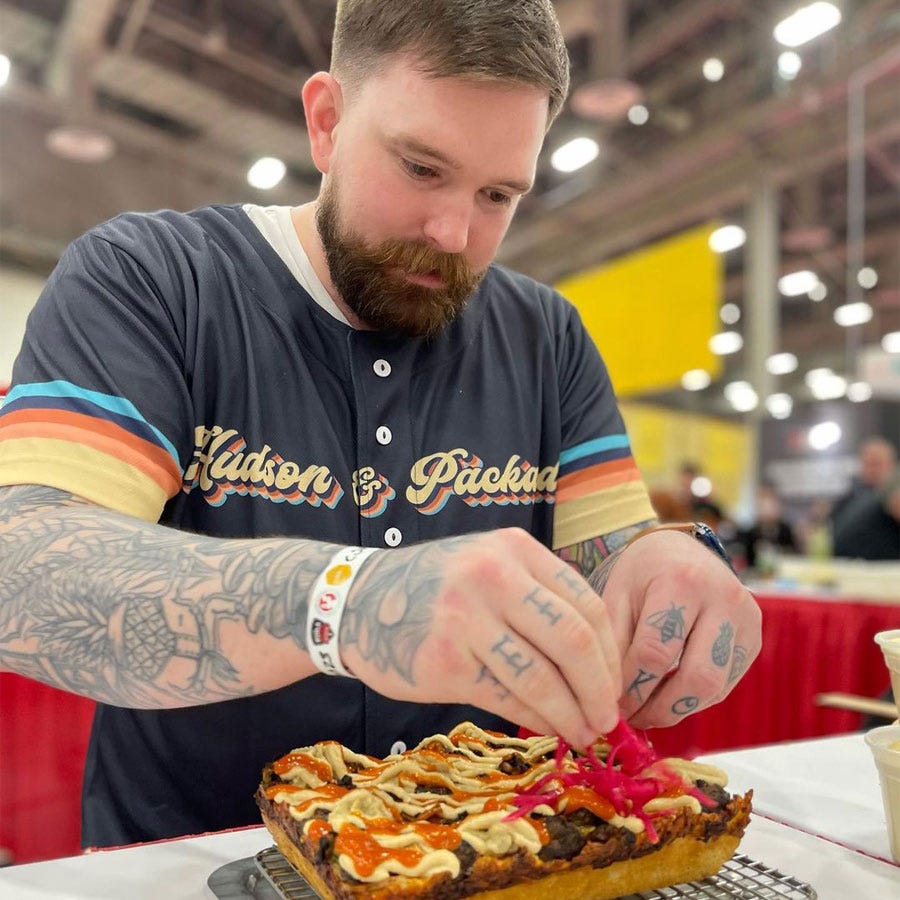 Webb's "Taste of Home '' was inspired by Lebanese and Middle Eastern cuisine in his home — Dearborn, Mich. — and an effort to have more fun and relax at Pizza Expo. It included halloumi cheese crust with a brick cheese blend, roasted root veg hash, lamb and beef kefta, baba ganoush, roasted garlic hummus, spicy tomato oil and pickled turnip.


"Last year I went more with a fusion that I am a big fan of on pizza. I like a Latin fusion on pizza, and this year I wanted to do something that was a little more something that I grew up eating and I was familiar with," he said. "People ask me what my favorite place to eat is when I go home and it's not always pizza, it's those places."

World Pizza Champion Nicole Bean was able to take her fourth place prize pizza from the pan to the oven for presentation with ease.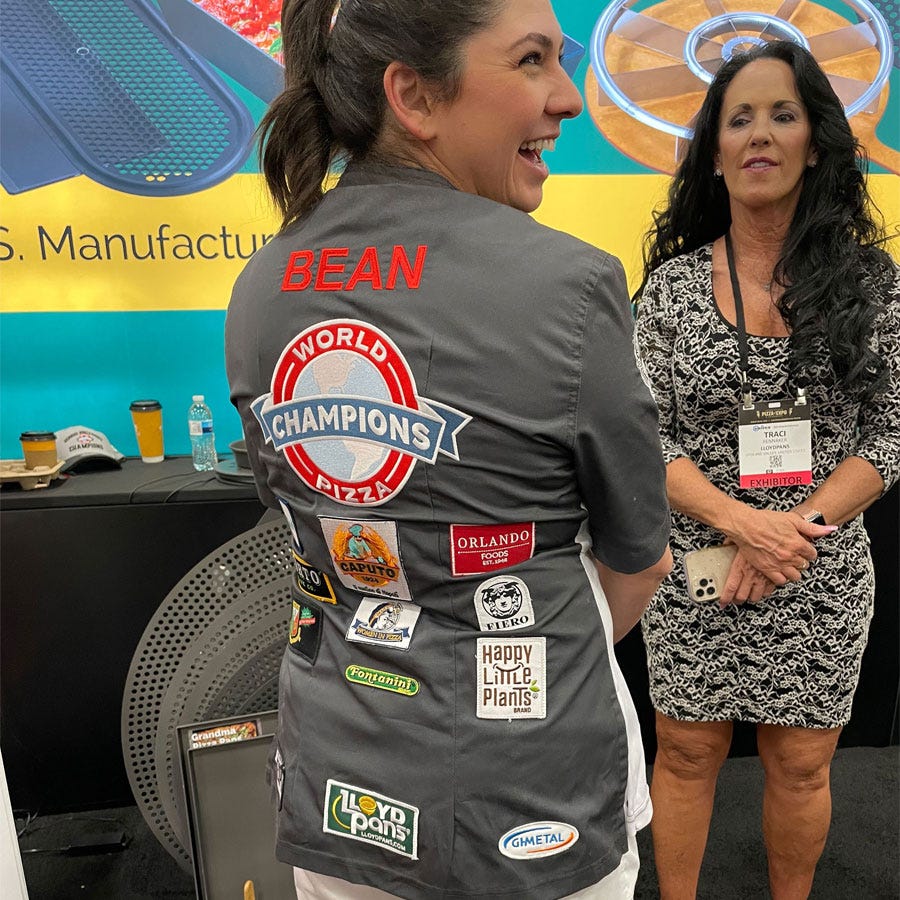 "No seasoning beforehand! Having this shallower pan allowed me to create a padellino pizza and land fourth in the pan division," Bean said. "Padellino pizzas are typically made with a cast iron skillet; I was able to mimic this technique with a higher temperature and shorter bake time."


In the record (books)
World Pizza Champions Will Grant and Mike Bausch stopped by the booth to present Traci Rennaker and LloydPans with a Guinness Book of World Records certificate for pan help with the world's largest pizza party. Peter Reinhardt also stopped by to sign copies of his book, and Scott Deley flew all the way across the pond to promote his book.
Hot out of the oven.
Rich's Culinary Manager Matt Eisenhour presented his pizza samples with only two LloydPans — for the entire Pizza Expo! "Everything else kept sticking," he said. "If that's not a testimonial, I don't know what is." We also spotted LloydPans at the Wallaby, Dough King and Orlando booths.
Pizzaiolo power.
Several people stopped by the LloydPans booth to chat with customers about our favorite topic: pizza! Leo Spizzirri, Jeff Smokevitch, Brittany Saxton, Scott Wiener, Christian Patriarca.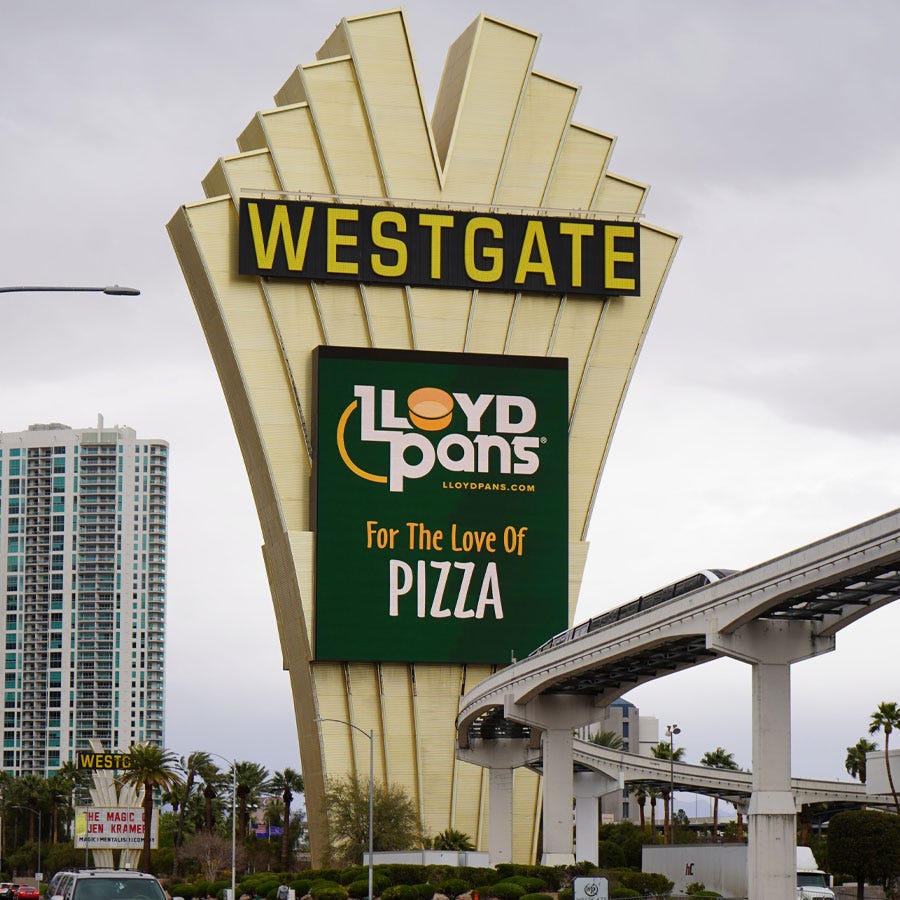 LloydPans also made our own special appearance: at the Westgate sign outside. It was truly a culmination of pizza experiences, friendships and a jackpot in more ways than one.
Missed us at PizzaExpo? Follow us on Instagram for a look back on the week in Las Vegas.